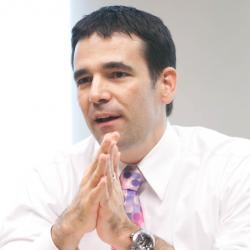 Dr. Sheen S. Levine studies how people behave and how they impact others, organisations and markets. His research spans disciplines: How knowledge sharing affects performance, when open collaboration facilitates innovation, and how strategic intelligence brings success. He currently studies why diversity improves error detection, and when decision makers opt for the familiar versus the promising, and how Pay It Forward creates surprising acts of kindness.
He collaborates with economists, psychologists, sociologists and cognitive scientists; but also with entrepreneurs and members of companies such as Bain and Company, Blackrock, Deloitte, and KPMG. He led research teams to publications in journals such as Proceedings of the National Academy of Sciences, Organization Science and the Strategic Management Journal. The findings were cited by scholars in business, economics, psychology, sociology, law, and computer science. They have a wide-reaching impact, reported by The New York Times, The Wall Street Journal, The Economist, The Financial Times, Reuters, Forbes, National Public Radio, Bloomberg, Bloomberg TV, BusinessWeek, New York Magazine, The Boston Globe, Huffington Post, Business Insider, The Globe and Mail (Canada), Paris Tech Review, Affärsvärlden (Sweden), South China Morning Post, China Radio International, The Straits Times (Singapore), The Hindu (India), Forbes India, The Australian Financial Review and others. In 2015, New York City changed how it selects managers for its $160 billion pension funds, citing research by Dr. Levine and associates.
As a professor, Dr. Levine has taught global strategic management, organisational theory, entrepreneurship and innovation to students and executives in the US, Europe and Asia. He is an op-ed contributor to the New York Times and engages tens of thousands on twitter, Facebook and LinkedIn. He is a member of the Academy of Management, Strategic Management Society, American Sociological Association, Society for Personality and Social Psychology, American Economic Association, and Economic Science Association. His research was conducted at The University of Pennsylvania, where he was trained, MIT, Columbia, and the University of Texas at Dallas, among others.
Research interests
Knowledge Sharing
Collaboration
Strategic Management
Organisational Theory
Entrepreneurship and innovation