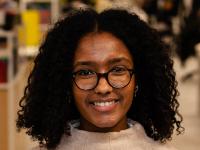 Nyangala is a Policy Learning Designer at the Innovation Growth Lab's (IGL) Policy team.
She helps IGL partners and the wider policy community to share and learn from policy ideas.
Since joining Nesta in 2018, Nyangala has worked to deliver impact through strategic communications and programme design, having supported the delivery of Nesta's 2030 strategy. Prior to Nesta, Nyangala worked for several years for a human rights and technology startup. She has worked for both profit and non-profit organisations to deliver programmes that are multidisciplinary and mission driven.
Nyangala has a degree in International Relations and holds a MA in Global Media and Transnational Communications from Goldsmith's, University of London. Her personal interests tend to fall into three main categories: social justice, design and technology.